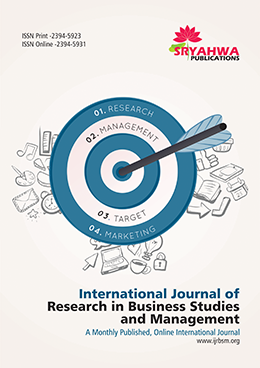 Editorial Board
Dr.H.M Chandrashekar
University of Mysore,
IDS, Mysore, India.

Alexander Chumakov
Professor,
Chair of Philosophy Department,
Finance University under the Government of the Russian Federation,
Russia.

Ubaldo Comite
Professor of Business Administration,
Department of Business Sciences,
University of Calabria,
Italy.

Alexander Franco, PhD
Associate Professor,
Stamford International University,
Graduate School of Business,
Thailand.

Bulent Acma, Ph.D
Professor of Economics,
Department of Economics,
Anadolu University,
Turkey.

Dr Pawel Tadeusz Kazibudzki
Associate Professor,
Business Administration,
Jan Dlugosz University in Czestochowa,
Poland.

Carlos Manuel Ferreira dos Santos
Associate Professor,
School of Economics and Management,
Portuguese Catholic University,
Portugal.

Dr. M. B. M. Ismail
Senior Lecturer in Management,
Department of Management,
South Eastern University of Sri Lanka,
Sri Lanka.

Professor Dr. Abdelnaser Omran
Department of Risk Management,
School of Economic,
Universiti Utara Malaysia,
Malaysia.

Dr. Epaminondas Koronis
Senior Lecturer,
Department of Leadership and Professional Development,
University of Westminster,
London.

Dr.Anupam Mitra
HOD & Associate Professor (Finance),
Team Lease Skills University,
Vadodara, India.

Dr Abdulslam Abdulrahim
Dean of Faculty of Economics,
Department of Commerce,
Omar AL-Mukhtar University,
Libya.

Peyman Akbari
Payam Noor University of Kermanshah,
Iran.

Dr.J.Gajendra Naidu
Faculty of Finance,
Gaborone Campus, Botho University,
Botswana.

Naveed Ahmad
Lecturer,
Management Sciences,
Lahore Leads University, Pakistan.

Entela PRIFTI
Faculty of Law,
University of Tirana,
Korce.

Valeriy Okulich-Kazarin
Professor of Institute of Administration of Academy J.Dlugosza in Czestochowa,
Poland.

Dr. Gangaram Biswakarma
Senior Assistant Professor,
Apex College, Pokhara University,
Kathmandu, Nepal.

Antonio Corvino
Associate Professor of Strategy and Business Sustainability, Ph.D.,
Department of Economics,
University of Foggia, Italy.

Dr. Mwafaq M. Dandan
Department of Banking and Financial Sciences,
Albalqa Applied University,
Jordan.

Kalpana Agrawal
Faculty HR, Marketing, Foreign Trade,
English Prestige Institute of Management and Research,
Indore.

Agnieszka Rzepka
Assistant Professor,
Lublin University of Technology,
Poland.

Kosa Golic
Faculty of Construction Management,
University Union Nikola Tesla,
Republica Serbia.

Qader Vazifeh Damirchi
Department of Management, Germi Branch,
Islamic Azad University,
Germi, Iran.

Dr.M.Jayaprakash
Department of Library and Information Science,
Periyar University,
Tamilnadu, South India.

Prof. Dr. Erdogan GUNES
Faculty of Agriculture, Department of Agricultural Economy,
Ankara University,
Diskapi/Ankara/ TURKEY.

DR. Muhammad Nasrum
Chairman,
BSchool of Management YAPIM Maros,
Indonesia.

Dr. Emhamad Elmansori
PhD in Management,
Omar Al-Mukhtar University,
Al-Bayda - Libya.

Dr. Marco Sorrentino, PhD
Assistant Professor of Business Administration,
Department of Law and Economic Sciences,
Pegaso University, Italy.

Dr.R.Sivanesan
Head & Assistant Professor,
Department of Commerce,
St.Alphonsa College of Arts & Science,
Tamilnadu, India.

Dr.Anna Jedrzychowska
Assistant Professor, PhD,
Wroclaw University of Economics,
Poland.


Editor, editorial board and other members do not receive any remuneration. These positions are voluntary.